"Vacu-pressure" ™ Dynamic massage cupping:
Massage cupping has been an ancient form of healing art, practiced centuries ago in Asia, Europe, Africa, and the Middle East. Traditionally, the use of bamboo, animal horn, and glass made suction cups increased circulation, removed toxins from the body, and restored energy and health in patients all over the world. Today, Fire Cupping is used primarily in the Acupuncture field but within recent years, modern cupping tools such as hand held pumps, rubber cups and silicone cups have been adopted by Physical therapists, Chiropractors, and Massage therapists.
Keomaco is one of the first San Diego massage therapy companies to offer and hold workshops in Keoni's very own "Vacu-pressure"™ Dynamic massage cupping protocols. Keomaco uses the finest FDA approved, latex free Baguanfa Silicone made cups.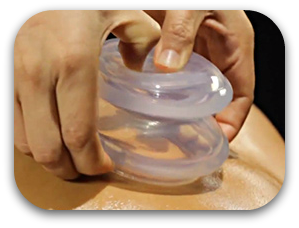 Some benefits of "Vacu-pressure"™ include:
Increases circulation and generates heat to areas of the body.
Relaxes soft tissue and lubricates joints.
Breaks up scar tissue and loosens fascia.
Removes cellular debris and toxins from muscles
Relaxes the affected tissue to induce a full body relaxed feeling.
 *Please download this additional client release form pertaining to Dynamic cupping sessions:
Call or Text 760-822-4263 or Email Keoni today to see how Cupping can benefit your health and wellness.