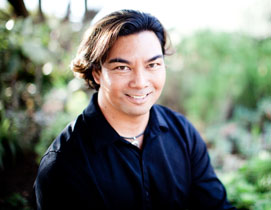 Born in the Philippines and raised in Orange County California, Keoni has been in the Health and Fitness industry since 1992 as a Personal Trainer, Group exercise instructor, Fitness model and Massage therapist. He has an Athletic Training degree from San Diego State University, A.C.E. certifications, is one of the first San Diego therapists certified in Advanced cupping techniques, and has over 1500 hours of Bodywork education from California State accredited schools and numerous workshops across the United States.
As one of the most requested massage therapists at the world famous La Costa Resort and Spa, Keoni who has instructed and mentored thousands of students also is a "Teacher of the year" award winner with his Hawaiian Lomi Lomi program which has been taught and practiced in various San Diego and North County massage schools and institutions. Keoni also has developed and teaches his one of a kind "Vacu-pressure" © Dynamic Cupping classes and also is an instructor of Sports massage, Deep tissue massage, Swedish massage, and Chair massage. He has consulted, facilitated workshops, and developed numerous Spa and massage protocols for corporate staffs and individual practitioners throughout his 20 plus year career. His unique and intuitive massage and bodywork sessions stem from a blend of Sports massage, Deep tissue/Orthopedic massage techniques, Relaxing Esalen style, Thai massage and Hawaiian Lomilomi. His style of bodywork has made him a local favorite to many professional athletes, active individuals, and other massage therapists and health professionals.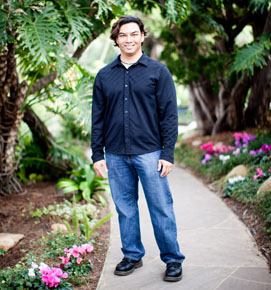 After receiving a gift certificate to Keoni, I decided to give it a try because he came so highly recommended. I was pleasantly surprised how knowledgeable Keoni was, and even more surprised how well I felt afterwards. He has great hands! I was not sore, nor did I feel extremely fatigued, but rather refreshed. I now send my own clients to him when they have completed their physical therapy!
Kim Brummett
Keoni Salgado has been my massage therapist for over 15 years. He has worked on me once or twice a week consistently for all of that time. He has never stood me up, missed an appointment, or been late in over 15 years. He is absolutely the best body worker and massage therapist I have ever had or I've ever experienced!
Ken Kadansky
Keoni is the best. Intuitive, caring and filled with energy. I've never experienced more healing hands than his.
Alan Arkin
I've known Keoni for a few years now. Since I am a health professional by myself I am picky. So finding a massage therapist for myself was not easy. Keoni is knowledgeable and professional. I see him regularly for massages and have referred him to clients and friends.
Nicole Hansult
I just love the cupping. As an athlete I am constantly hard on my muscles. Nothing helps relieve the tension as much as the cupping does. Keoni has a way of making me feel like I'm as light as a feather when I walk out of there. I highly recommend him.
Piper